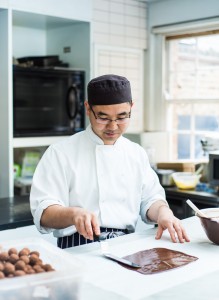 'My Sweet Academy' officially began on September 2015 and we are happy to announce that it has been a great success.A special thank you to all  our students for their support and encouragement.  While still keeping the popular menus in Chocolate and Patisserie, we are going to add further interesting courses.Please continue to follow us on the social media where we will be posting pictures and further details.
My name is Eiichi Sukegawa and my story began in 1987 when I was only 10 years old. I was living with my grandparents in Nasu which is located north of Tokyo. My Aunt, who was herself a chef, introduced me at that time to the joys of cooking at home. Soon after that, I started experimenting with baking.
It was a big surprise to friends and family when I gave them cakes, and sweets. As they opened the box, and saw the art and beauty inside, and found that the taste was equally amazing. When I told them it was all made by my own hand, they could hardly believe that a young boy could do this on his own. It was at this time that I decided to become a Patissier.
In 2000, I became an apprentice chef in Kudou Ginza Tokyo and in 2003; I decided to go to France to study its language and culture. I began my studies at the Alliance Francaise in Rouen. And, after 6 months, I continued my studies at Marc Block College in Strasbourg where I graduated.
In 2004, I came to London, where I attended the University of West London (Former Thames Valley University), and during my 4 years at the University, I achieved the status of Student of the Year and was awarded The Colin Rayner Memorial Prize in 2006 and The Peter Jaquemin Award in 2007. Finally in 2010, I graduated with a Degree BA (Hons) in International Culinary Arts.
I have worked for two prestigious Patissiers and Chocolatiers in London, and during that time, I have become accustomed to lecturing and giving courses in Chocolate and Patisserie.
In 2013, I was appointed Head Chocolatier at Melt Chocolates Notting Hill London W11 and responsible for creating and designing new products of a very high standard.
The university gave me the knowledge, and my work experience gave me the technique. In my association with many people in this diverse and cultural city of London, I felt drawn to teach, and consequently, pass on my passion to others. Hence, was born and formed, the idea of a school which I named significantly 'My Sweet Academy' the 3 words indicate the following
The word 'Academy' reflects a professional approach.
The word 'Sweet' indicates a homely ambience in the class.
The word 'My' indicates a sense of belonging on the part of the students.
Extra outside activities
Charity ‐ A very successful stall held in St Benedict 's Church in aid of the local Hospice
Collaboration with school ‐ A very successful liaison with a school in Southall
Local Market ₋ A very successful Christmas & Summer Market in Ealing